Eyes, Nose & Feet: The horse's order of discovery…
When a horse is being introduced to a new object, obstacle, or new situation, it is so important to allow them time to process using their natural senses and reactions. In addition, we can help to guide him in an order that gives him a chance to accomplish the task in a slow, safe fashion.Which helps to build longterm confidence and willingness when being faced with new tasks and requests.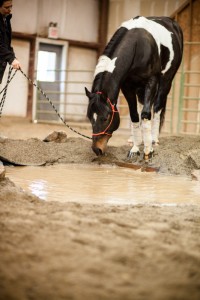 1st The Eyes…must learn to focus on what is in front of him, before allowing the instinct of flight to take hold.
If we plan to send him somewhere specific, we need to observe, recognize and allow the reaction of his eyes to take charge of his actions. Then to reward him in a timely matter for this first action of commitment: the eyes.
Once he knows he's being given the time to use his eyes fully to evaluate the request, he will begin using the rest of what comes natural to him…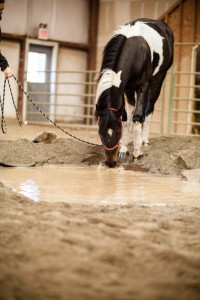 2nd The Nose…are the horse's "hands". Besides, using their sense of smell, the nose is used to feel their way through unsteady ground.
They need time to push, rub and even taste(such as water) what's in front of them before they commit their large bodies.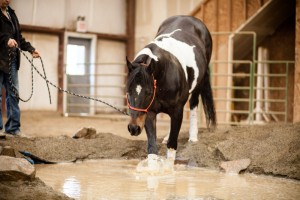 3rd The Feet…Once the horse has developed the consistent idea that he CAN and has time for the use of his eyes and nose before committing to the request, he will develop a calm, willing, conditioned-response to every new scenario. When this is accomplished consistently, the horse trusts that you will allow him time to evaluate the situation in full with all of his senses.
Patience is sometimes the hardest lesson to learn in horsemanship. The horse knows how to use these natural instincts and senses, you just need to learn to allow the time for him to use them.