Important Things to Consider in Any Training Program
Horse2Human has a strong belief in the old quote by Albert Einstein,  "Insanity is doing the same thing over and over again and expecting different results."  This is proven when a horse comes home from a traditional training program and the ow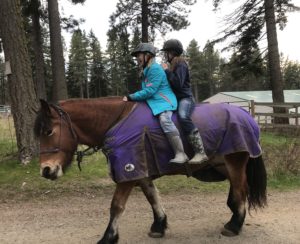 ner hasn't done any of the learning alongside his horse to understand the skills and signals that are being taught.  Additionally, the horse and human eventually return to the same routine and expectations that they started with before training and the relationship will quickly revert right back to where they started with all the problems they were hoping to cure.
So all in all, when you commit to a training program…learn as much as you can while your horse is in training and DO YOUR HOMEWORK…don't fall back into your old pattern!
'The 30-Day Wonder' Program….which we don't have…
When a horse, or a person for that matter, is taking on a new routine or habit…it can take much longer than just a 30 day period to help the body and mind to establish a memorized pattern.  The muscle memory or memorized routine needs to become second nature.  If a horse has spent 10 years experiencing traumatic accidents, or bucking each person off, rearing up, pulling back when being tied, picking up the wrong lead or even just sitting in a pasture all his life…30 days just isn't enough to reverse 10 years of memorized habit.
"The impression that 30 Days WORKED"   …30 Days can sometimes give the horse a good start. At the 30 day mark, you may notice a huge change from the horse.  But 30 days is merely just that…a good start.  If it is not followed up with regular maintenance by you or someone qualified with the same skills, the problems with this horse have a huge chance of relapsing or returning.  Spending the money or even just the time to have the horse 'tuned up' for 30 days is likely to be a complete waste if you and the horse return to the very same pattern or routine that you started with.   The 'triggers' to the problem at hand, will always be there, and you need to allow the horse time enough in the new pattern to develop muscle memory in his body and in his mind.  It is also just as important to be sure you are involved in the training of the horse, so that you can also take on new habits and expectations in order to improve the relationship.  A relationship doesn't improve unless both sides make a change.
Commiting yourself to the program, the other half of the equation
While the trainer is capable of helping a horse to memorize a new routine or set of skills, the only way that the new skills can be maintained and guaranteed to last is if the intended handler takes on the same set of new skills. The training of the horse is only 50% of the equation.  The human must be involved both in observation and hands-on experience.
Before considering a training program and scheduling your interviews with trainers, be absolutely sure that you are ready to commit yourself to the program as well.  Additionally, before you spend the money putting your horse into training, be sure you are scheduling during a time in your life that you can commit AT LEAST 2 days a week.  (In my experience with students, 2 or more days in a row, allows your body and mind to absorb the information and then improve the technique.  And to furthermore, create a feeling of success and knowing that you are making progress!) When you are interviewing a potential trainer, be sure to make it clear that you would like to be a part of the program so that you can continue what is taught.  A good trainer LOVES to hear this!
And remember that learning anything new can be tough in the beginning, especially if the language is foreign to you.  Memorizing language and getting your coordination started is the hardest part of any training program.  Be patient with yourself and know that you are in it to help your horse.  To create the relationship that works for both of you.
If you stick with it, the rewards are worth it!  Enjoyment and relaxation with your horse is right around the corner!